What are Washi tapes
Washi tapes, also called masking tape or deco tape, are decorative adhesive tapes made with washi paper, a strong and durable handmade japanese paper that is obtained by processing the fibers of some plants. They are used for lanterns and origami but its applications are countless, let's see them together.
What is Washi tape for
Washi tape can be applied to a variety of materials such as plastic, wood, paper, laminate, glass and ceramic.
So from simple greeting cards and gift packages to use in home decor.
It is not a simple adhesive tape but a tool for decorating various objects or furnishing elements such as furniture, doors, lamps, shelves, bookcases or even the whole walls.
In fact, they can enrich and renew any surface and they are also economical.
It is possible to create a wall decoration with patterns of your choice or to frame drawings and photographs in an original way.
The advantage is that you don't have to pierce the wall or paint it: with washi tape you just need to have the design you want to create in your head and you can have fun.
The combination of different monochromatic or colored tapes can create geometric patterns and particular shapes and makes the room truly unique, as well as the objects that are even partially covered with Washi tape.
On Pinterest you will find many amazing and interesting ideas for the home and for composing creative projects with these cheerful colored tape. Get inspired!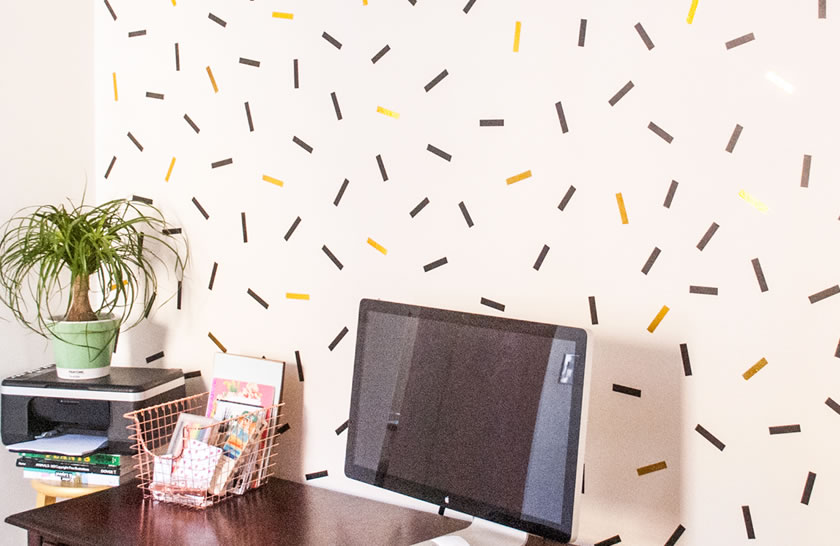 Washi tape: how to use and features
The distinguishing feature of washi tape from common adhesive tape is its simplicity of application and removal that does not compromise the surface on which it is applied.
It is not just a stationery item, but it has great creative potential to be exploited in furnishing.
It is resistant and versatile, the washi tape is sold in rolls and it is proposed in different colors and patterns, as well as in various shapes and with applications such as glitter, strass and paillettes.
Washi tape and furniture: how to decorate the house
The latest trend in furniture is to be surrounded by objects with a personalized touch and an environment that represents us. All this is possible thanks to washi tape. The nice thing is that you don't need to turn to a designer but we are the ones who get involved in this project. Just use your imagination and voilà the result is surprising: thinking differently and creatively is the first step, then aesthetic taste and individual needs play a key role.
Applying a decorative tape to a wardrobe can give the impression that it is a new piece of furniture and makes it come out of the anonymity to which it was previously relegated, giving character to the whole room.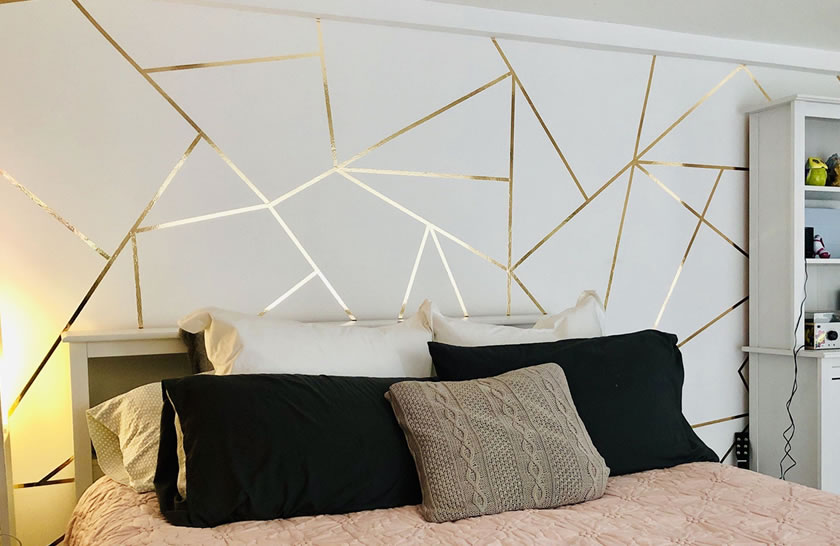 Alutape, the Washi tape for home design
There are also variants of Washi in an elegant way, such as our Alutape, which is a metal tape available in many finishes, gold, silver, copper, chrome, brass or black.
It enriches every part of the house with its "wow effect", thanks to the reflective properties of aluminum and it is truly versatile. Like Washi tape, it can be used in different ways and is able to transform empty walls and common furniture with design patterns.